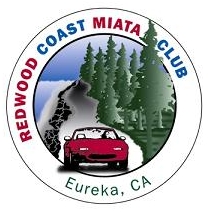 Roadster Romp

June 4-5, 2005
A Miata Driving Weekend in the Trinity Alps Wilderness
Weaverville, Calif.
*** CLICK HERE / RSVP -- If You're Considering Coming ***
Twist & Shout!! Come join the Redwood Coast Miata Club on a pilgrimage to the best Miata roads in the north state. Weaverville, California, will be our base of operations. The Trinity Alps Wilderness will be our playground. This is planned as a non-event somewhat in the Deals Gap tradition. No fees, no pressure ... just a lot of great driving on some of the best Miata roads in this neck o' the woods.
The Mission (should you choose to accept it): Last both days without passing out. Now that's a challenge! Seriously, though, this weekend will cover a lot of mileage. There are only a few spots for convenience stops. Meals will be in town, but the rest is in the wilds on lightly-traveled roads. We think these are some of the best in the state, but we'll let you decide.

Go West, young Miataholic. Or south, or any other direction, actually. Hey, simply get outside the 'city' limits and you'll hit a curve. Weaverville's smack dab in the center of the Trinity Alps wilderness and on the border of the Marble Mountains. It's 45mi west of Redding and 100mi east of Eureka, on Hwy 299. It may take a couple hours to get here, but the roads along the way are great ones: Hwy 299, or 36, or 3. Once you're here, there are more curves than you can shake a Miata at. That's a promise!
There are two basic loops, if we're starting in Weaverville: (a) Hwy 3 north to Etna, then looping around the Salmon River back to town; and (b) Hwy 3 south through the hills to Hwy 36, then looping back through Redding and back to town. This is a driving weekend. A Miata weekend for the truly afflicted.
Further information about the Trinity area can be found here: Trinity County Area & Towns.
Schedule
This is a weekend / overnight event, with Saturday/Sunday drives. The tentative schedule is:
| | | |
| --- | --- | --- |
| Fri -- 5 pm | RCMC to leave Arcata, launching from the Coast Central Credit Union parking lot on Giuntoli Ln, off Hwy 299. | |
| Hotel | Best Western Victorian Inn (ph 530-623-4432). Make your own reservations. | |
| Sat -- 8 am | Breakfast at the Nugget Restaurant, 622 Main St., about 2mi west of the hotel. | |
| Sat -- 9:15 am | Gathering of the cars (Best Western Victorian Inn parking lot, west side of hotel). 9:30am launch. Northbound run up Hwy 3, over Scott Mtn pass, through Etna, Forks Of Salmon, Cecilville, then back to town. A full day of driving. | |
| Lunch | Sometime mid-day along the route(s). | |
| Sat -- 6 pm | Return to town, cool off, shower up, prep for dinner. | |
| Sat -- 7 pm | Dinner at Marino's Italian Restaurant, 1316 Nuggest Ln, on Main St. about 1mi west of the hotel. | |
| Sunday -- 8 am | Breakfast at the Nugget Restaurant, 622 Main St. | |
| Sunday -- 9 am | Do it all over again! Southerly loop, this time, heading out Hwy 3 south toward Hayfork, out Wildwood Rd., Hwy 36, A16 / Platina Rd, heading into Redding for a late lunch, then back into Weaverville. This will be a slower pace. | |
| Sunday -- 4pm | Depart. | |
The beauty of this corner of the world is: you can focus on driving, on getting to a spot for a day-hike, on an out-and-back with a picnic at the other end, on finding that special section of river where nobody's been in a coon's age ('cept the coons) ... we've got it all.
Lodging
Click Here for a list of hotels/motels in the area. The unofficial hotel for the Redwood Coast Miata Club is the Best Western Victorian Inn (ph 530-623-4432). There are a number of Bed & Breakfast establishments and smaller motels dotted around the area. Feel free to partake of their hospitality, as well.
Dining
Here is a list of area eateries (Weaverville).
Weather
June in the hills is typically 80-95*F during the days, with comfortable evenings. Bring light clothes and a few long-sleeved items to ward off the sun, a rain jacket just in case of thunderstorms (rare in June but possible), trail stomping shoes if you want to get out and explore a bit, skeeter repellent, sunscreen, a good hat or two, and great sunglasses. You know the drill.
For more information, contact: Michael Wright..